Events
13 Mar 2018 - 13 Feb 2018
14:30 - 18:00
Building number 103, Wageningen University, Bronland 1, Wageningen
NPCS Meeting of Minds (in Wageningen)
Will the plans of the new government give an impetus to complex systems science in the Netherlands? In what areas is a large societal or industrial need felt for new research and application? But also: what are the big fundamental questions that we need to address?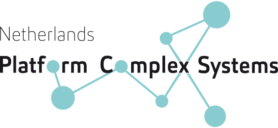 Dear reader,
We are pleased to invite you to the second NPCS Meeting of Minds. This one is in Wageningen.
In an informal atmosphere, we invite you to share your views on the opportunities and challenges for the complexity research community of the Netherlands. We will kick-off with a few short speeches to set the stage for possible discussion topics, and then give you the opportunity to exchange ideas with your peers. Poster boards are available if so desired.
Programme
15.00           Word of welcome (Orion, C1032)
Erik van der Linden
15:05           Artifical Sociality
Gert Jan Hofstede (WUR)
15:20           Complex Networks in crumpled materials
Mehdi Habibi (WUR)  
15:35           Resilience
Jaap Molenaar (WUR)
15:50           Poster session
Networking
Drinks & food
We encourage you to present some hot results of your complexity research on an A4-poster (see Poster-template and Poster-Example). Please let us know before Friday March 9th whether you like to show a poster by sending a mail to npcs@uu.nl with the email subject title starting with "Poster NPCS", so that we know how many poster boards we have to arrange.
Venue
This NPCS Meeting of Minds will be hosted by Wageningen University. Building number 103, Bronland 1, Wageningen.
Registration
In view of the required catering, we kindly ask you to register before Friday March 9th.
We look forward to welcoming you!
On behalf of the NPCS Board
Erik van der Linden
Chairman of the NPCS