Events
14 December 2017
15:30 - 18:00
UvA Institute for Advanced Study (IAS), Oude Turfmarkt 147, Amsterdam
NPCS Meeting of Minds
Will the plans of the new government give an impetus to complex systems science in the Netherlands? In what areas is a large societal or industrial need felt for new research and application? But also: what are the big fundamental questions that we need to address?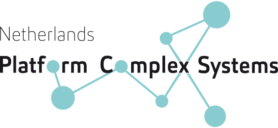 NPCS Meeting of Minds
14 December 2017 | 15:30-18:00
UvA Institute for Advanced Study (IAS)
Oude Turfmarkt 147, Amsterdam
We are pleased to invite you to a special network event: the NPCS Meeting of Minds!
In an informal atmosphere, we invite you to share your views on the opportunities and challenges for the complexity research community of the Netherlands. We will kick-off with short speeches to set the stage, and then give you the opportunity to exchange ideas with your peers, and to interact with representatives of the Ministry of Economic Affairs (Complexity in Governance), TNO and NWO (including the members of the NWO Programme Committee on Complexity).
Programme
15.30           Word of welcome
Peter Sloot (Scientific Director of the Institute for Advanced Study)
15:35           Relevance of complexity science from a governance perspective
Albert Faber (Senior Policy Advisor, Strategy Unit, Ministry of Economic Affairs)
15:45           NWO Programme "Grip on Complexity" – current state of affairs and next steps
Christiane Klöditz (Head of Mathematics & Computer Science, NWO)
Peter Vervest (Chair of the NWO Programme Committee on Complexity)
15.55           TNO Early Research Programme Complexity
tbd  
16.05           Vision and plans of the NPCS (2018-2020)
Erik van der Linden (Chairman of the NPCS)
16.15           Network drinks (with poster session)
We encourage you to present some hot results of your complexity research on an A4-poster (see Poster-template). Please send us your poster (using npcs@uu.nl), so that we can print it out and display it at the meeting site.
Venue
This NPCS Meeting of Minds will be the first in a series of community building events, hosted by the UvA Institute for Advanced Study (IAS). The IAS offers outstanding scholars a haven – free from constraints of disciplinary boundaries – where they work collaboratively on complex scientific and societal challenges. During the network event, you are welcome to have a look around in the recently renovated historical building.
Registration
We kindly ask you to register before December 8, 2017. Please sign up here:
We look forward to welcoming you!
On behalf of the NPCS Board
Erik van der Linden
Chairman of the NPCS